In an interesting move, outgoing Doctor Who supremo
Russell T Davies has named Russell Tovey
- Midshipman Frame (allons-y Alonso!) - as his preferred choice for Eleventh Doctor:
In e-mails serialised in The Times newspaper, Davies said Russell Tovey, who appeared in Alan Bennett's play The History Boys, would fit the role.

The creator, who leaves the show next year as lead writer and executive producer, said he thought Tovey was "going to be huge" and is "amazing".
I'll admit if I had my own way I'd get Hugh Laurie - British, older (but not
that
much older), has the comedic chops, and House has proven he can draw from a much darker (and odder) seam too. But he's just had a massive payrise, so I don't think that'll happen any time soon. Tovey though is interesting, not least because
he's gay
.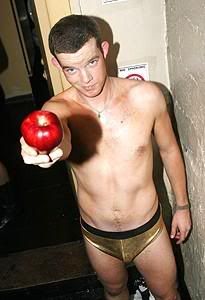 It's understood (but not confirmed) that David Tennant's not going anywhere yet - he has a Who feature film he appears to be negotiating, in addition to probably starring in Who series 5 - but it does make you wonder whether this has already been decided, and what Steven Moffat could do with him.